Jun, 19, 2017
Comments Off

on Watch a Lamborghini Murcielago Tow a Trailer Full of Goats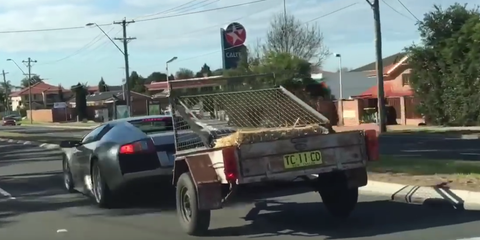 I've become jaded to videos of people doing silly things in supercars, but just when you think you've seen it all, a video of some dude towing goats in a Lamborghini Murcielagoappears. I'm not sure why this guy thought this was a good idea, but ehhh, it's probably better not to question it.
The video comes from Australia and was posted to YouTube last week by user Joseph Criniti, who doesn't offer any explanation as to why this guy was towing goats in a Lamborghini. Whoever was sitting in the passenger seat of the Murcielago seems unfazed by the bizarre situation she's a participant in.
Read more: http://www.roadandtrack.com/car-culture/videos/a30142/lamborghini-tow-goat-trailer/